Over on social media, Zack Snyder celebrates Batman Day by honouring his favourite on-screen Batman, Ben Affleck, who's set to reprise the role in Justice League this fall. While it seems like an obvious choice given the fact that Snyder essentially created Affleck's version of Batman as part of the director's 2016 blockbuster, Batman V Superman: Dawn of Justice, it is difficult to argue against.
People usually find themselves in one of the three following camps: the Michael Keaton camp, for his performance in Tim Burton's 1989 Batman and 1992 Batman Returns; the Christian Bale camp for his take on the caped crusader in Christopher Nolan's grounded and gritty The Dark Knight trilogy; or camp Affleck for his version of the popular character, in Batman V Superman and, to a lesser extent, his cameo in Suicide Squad. And of course, there is the occasional outlier who, when asked to choose between Keaton, Bale and Affleck, will answer Kevin Conroy for his voice acting in various iterations of Batman animation.
In a post on Vero, Zack Snyder celebrated Batman Day by making it crystal clear in which camp he falls. Take a look at a screenshot of his post below: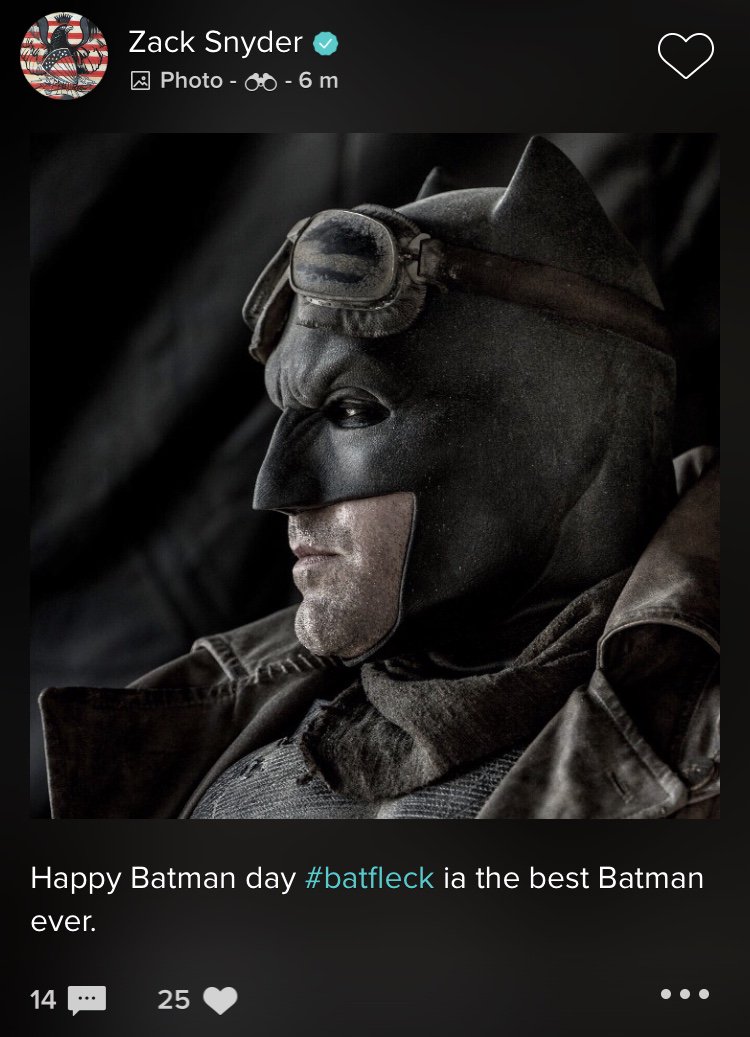 Batman V Superman was critically panned for its disjointed screenplay, character motivations, an over the top portrayal of Lex Luthor by Jesse Eisenberg and the general lack of the promised titular fight. Many also consider it to be one of the weakest of the nine live-action Batman movies to date.
Having said that, there are a few bright spots. One is Gal Gadot's portrayal of the Amazonian goddess, Wonder Woman. The other is Affleck's fantastic performance as Batman. Despite the character not written with as much depth as some would've liked, Affleck disappeared into the role completely. This version of Bruce Wayne was completely different from the other live-action iterations that came before it. An accumulation of past sufferings, including the death of one of his proteges at the hands of The Joker, made him a broken man. Viewers bought into the character because of Affleck's sensibilities; the subtle things that he does.
Since Suicide Squad, Affleck's future in the DCEU has been in doubt. There have been reports and rumours regarding the DCEU and Affleck. Initially, Affleck was set to write, direct and star in The Batman solo film. Due to personal reasons, he has since stepped aside as both writer and director, which was followed by rumors that Affleck will be stepping away from the Batsuit completely. However, the dust has finally settled, with Dawn of the Planet of the Apes and War for the Planet of the Apes director Matt Reeves stepping in. Reeves will be working on penning and helming the solo Batman outing, while Affleck has promised that he will be playing Gotham City's favorite vigilante. At San Diego Comic-Con, Affleck responded to rumors of his leaving by voicing his excitement about playing Batman in Reeves' film.
While plans for Batman within the DCEU may change, for now, let's celebrate Batman Day by revisiting Batman V Superman and all the other Batman films that came before it.
Source: Zack Snyder
Galaxy's Edge Rise of the Resistance Ride Breaks Down On Opening Day