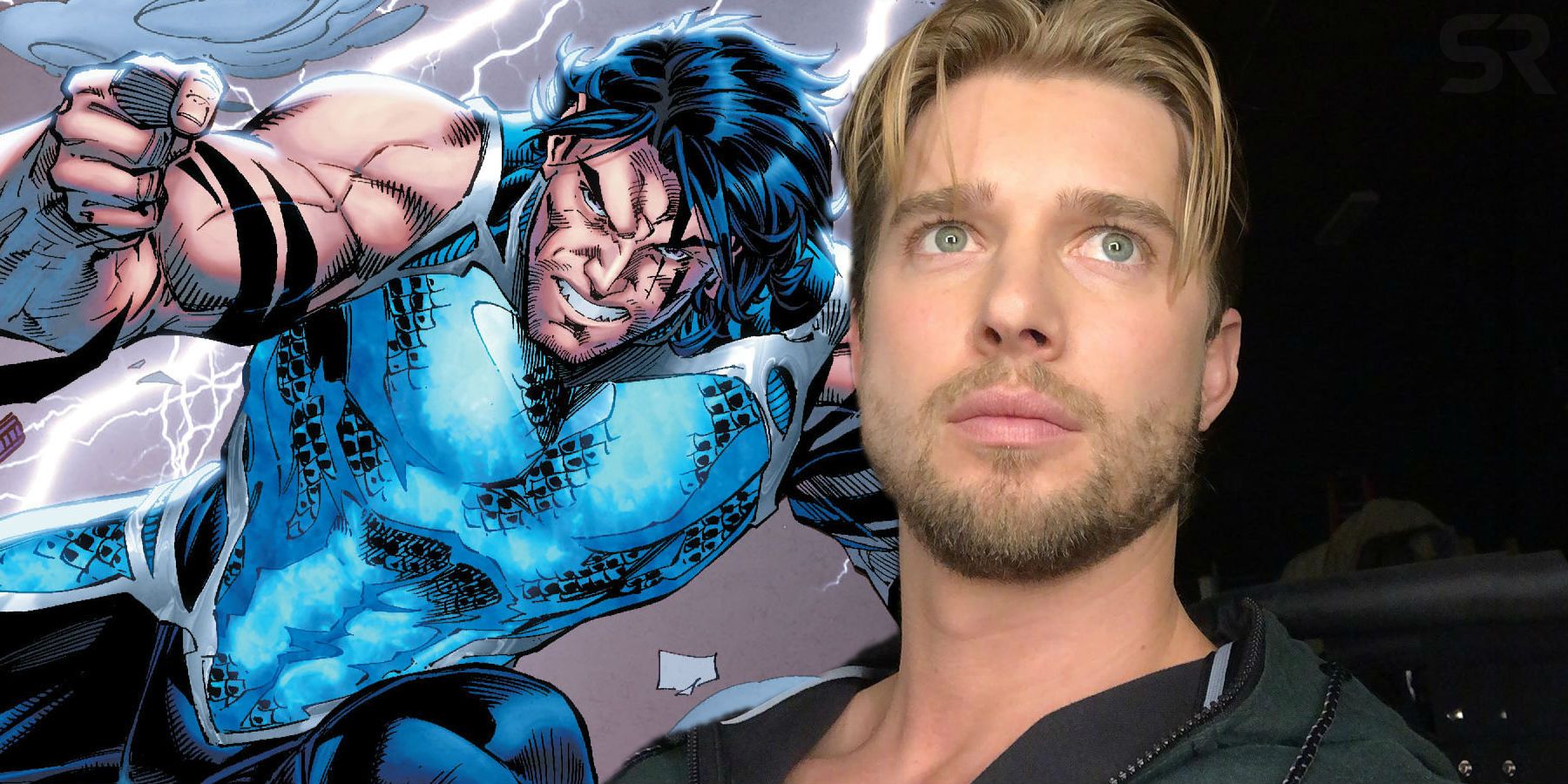 A promotional image from Titans gives the best look yet at Drew Van Acker's Aqualad. The flagship show of the DC Universe streaming service, Titans season 2 has rewritten the titular team's history. It's been revealed that the first incarnation of the Titans assembled several years ago, and that they broke up after a mysterious tragedy involving Deathstroke.
Titans season 2 is expanding the cast with a host of new characters; the Titans season 1 finale post-credits scene introduced Superboy (Joshua Orpin) and Krypto the Superdog, while the show has already introduced Iain Glen as Bruce Wayne, Esai Morales as Deathstroke, and Chelsea Zhang as Ravager. Drew Van Acker has been cast as Aqualad, a character who's yet to make his small-screen debut on Titans.
Continue scrolling to keep reading
Click the button below to start this article in quick view.
Related: Titans: Iain Glen's Bruce Wayne Is A Disappointment
Next Friday will see the release of Titans season 2, episode 4, entitled "Aqualad." Appropriately enough, DC Universe has released a promotional image that gives viewers their best look yet at the Titan (via Comic Book Movie). Check it out below.
A close look at the image shows Donna Troy hiding in the background. Significantly, she appears to be in costume, which strongly suggests this is a flashback; in the present day, the Titans seem reluctant to suit up again, and Donna and Dick Grayson have even been in the field in civilian garb. This implicitly confirms that Aqualad was one of the original Titans - but it may also subtly hint that he met with a tragic fate.
The last episode of Titans revealed that the original team disbanded after they wound up in some sort of grudge match with Deathstroke. Dick Grayson made some poor judgment calls, with tragic consequences; when the dust settled, the Titans believed Deathstroke had been killed, but their victory came at a cost. Donna explicitly referenced "ghosts" in Titans Tower, and the tone of her voice strongly implied that she meant this literally. That makes it very concerning that Aqualad has only been shown in flashbacks; it could be that he was the Titan killed by Deathstroke. Of course, given Deathstroke actually survived when he too was believed killed, it's possible there's still a twist to come in the Titans tale.
In the comics, Aqualad had the same kind of powerset as his mentor Aquaman, although he ultimately gained additional powers to manipulate water and project energy beams from his eyes. He was a founding member of the original Titans, and has been a recurring member of various teams. If he was indeed Deathstroke's superhero victim, then he's a sad loss to the Titans, and it's understandable why his death caused the team to fall apart.
More: How To Watch Titans Season 2 (& When New Episodes Release)
Source: Comic Book Movie
Supernatural Theory: Season 15 Title Card Teases How The Winchesters Beat God