Mixed in with all the other comic book adaptations on TV and in movies of late, who knew one based on the almost 80 years old Archie Comics would be such a success. But thanks to creator/showrunner Robert Aguirre-Sacasa, Riverdale is far from its whimsical past, adding Gossip Girl style relationship drama to a Twin Peaks-esque dark and mystery filled show. With writing like that, it's no wonder the show has been a success so far.
Season 1 took fans deeper into the lives of the shows' characters, ultimately ending where it started - with a possible murder mystery. And season 2 looks to be taking an even darker path, with titles revealed for the first few episodes suggesting inspiration from classic horror/thriller movies, and the promise of a "broken Betty" taking center stage for the season 2 plot.
Aside from all the misery and death, fans love the show for it's cast of lovable high schoolers (even if they're not teens in real life). The cast haven't been shy in expressing just how well they get on, sharing behind-the-scenes foolery and sweet sentimental photos on social media.
Before season 2 hits screens in October, immerse yourself in these 15 Behind-The-Scenes Pictures Every Riverdale Fan NEEDS To See.
15

The beginning

Riverdale has seen its cast go through a lot of firsts in their careers. It was KJ Apa's first audition in LA, Cole Sprouse's first acting job since his Disney Channel days, Camila Mendes's first producer callback, and Lili Reinhart's first LA audition only a few days after she moved to the city. For those reasons alone, it's pretty amazing it all went so well for the young actors.

Sprouse (Jughead) sums up the casts' feelings, towards filming the series, pretty well: "We all showed up on set and it was magic. As a cast, we get along like peas in pods. I'm sure every cast says that stupid cliché s**t, but as someone who was a little bit nervous about returning to acting, I was wondering about how we were all going to get along as a cast. I'm so thankful that we do and that it works."

Just from this photo Lili posted on Instagram, fans can tell that Cole wasn't just saying "stupid cliche s**t" and that they are actually good friends off screen.
14

On set stupidity

Season 2 began filming in late June, and following on from the first season's insane cliffhanger ending, it seems like the second is going to be just as dark, if not darker. With the first episode titled "A Kiss Before Dying", and Luke Perry missing from the first season 2 table read, things aren't looking good for Fred Andrews, which means bad news for his son, Archie.

Knowing the dark nature of season 2, this photo Apa posted on Instagram conjures up all kinds of questions. Is this a scene in the show, or just the guys goofing around like they do between takes? If it is a scene, does it mean they're adding in humor to counteract the miserable plots? Or is it just silliness to lighten the mood on set while they film a slew of upsetting scenes? We'll have to wait until October to find out.
13

Lili's audition

As we've already said, Riverdale was Lili's first audition, mere days after she moved to LA, aged just 19 - which has got to be a daunting experience for anyone. This photo of her waiting to go into the audition captures so many of the emotions she was feeling; her anxiety and an almost desperate desire for the role.

She said about the audition: "I really fell in love with Betty… So, when I got the call, I knew it was going to be life-changing. I knew people were already passionate about this project, and the fact that I had booked one of the lead roles on a CW pilot meant so much. I started crying. I knew that my life changed, in that moment. I was with my friend, when I got the call, and when I hung up he was like, "I just watched your life change, in front of my eyes." It really did."
12

The diner
There are plenty of iconic settings in pop culture, and even before Riverdale, Pop's Diner was one of them. Now Riverdale has brought the ice cream parlor to life in the set created for the show, as seen in this photo taken by Jughead himself, Cole Sprouse. It really is a stunning facade, with a beautifully retro interior.
It's clear a lot of work has gone into the diner set to make it realistic, creating a real-life diner just for filming the show. As Sprouse said in an interview: "It was, brick for brick, wall for wall, taken from a diner that we shot in for the pilot. This is a functioning diner. If we wanted to turn it around off-season and make a little cash, we could! We actually had an 18-wheeler pull in, thinking this was a legit diner." We bet the trucker made that story up just so they could have a look at the incredible set.
Let's not forget that, without the diner, we wouldn't have the show's voice of reason, Terry "Pop" Tate, serving them food and giving them life lessons, like the character has done for the past 70 odd years.
11

One for the ladies

Twenty year old KJ Apa certainly isn't shy when it comes to showing off the body he's built for Archie, as this photo from the set of season 2, episode 1 goes to show. Being a "sex object" is something he's embraced for the character, despite Archie being his first major acting role.

He reiterates, though, that even if Archie is seen as a sex object, there's so much more to him than that: "When people look at you as a sex object, that's not how you're defined. I think you just need to come back to the heart of it. There's more to Archie than abs and his body and getting with girls and stuff like that. He's a humanized character, and people should see past that, you know what I mean? I think people do, but initially, at first glance, people are going to have that first impression of sex object."
10

Goofing around in the diner

There's no arguing with the closeness between Apa and Sprouse; a closeness that's been apparent since the very beginning of filming the series. Their relationship in real life has always been a massive influence on their on-screen friendship, with the lines between real life and Riverdale seemingly almost blurred.

Sprouse said in an interview with Vulture that Archie and Jughead's relationship is "much more sibling than friend. The way Jughead talks to Archie and vice versa is very much the way I would talk to my twin."

Judging by this adorable photo - part of Sprouse's beautifully candid behind-the-scenes photos posted on Imgur (photography is also one of his talents) - the between takes antics show just how easily they go from Archie/Jughead to KJ/Cole, from awkward conversations, arguments and defensive attitudes, to being just two dudes doing dumb stuff that siblings and best friends do.
9

Friendship goals

As this photo proves, Lili Reinhart and Camila Mendes - aka Betty and Veronica - are adorable BFFs in real life and on screen. They've been like this from day one, and the pair love to emphasize the importance of their friendship, both on and off-screen, in interviews. It's particularly relevant considering Betty and Veronica's occasionally strained relationship throughout the history of Archie comics.

Mendes told Empire Online: "Their friendship in the '40s is obviously going to be different from their friendship now. There's more kindness between them, but that's not to say that there isn't going to be rivalry as well." With

Reinhart echoed those thoughts in another interview: "It was important to us that Archie did not come between these girls. He does for a second, but the main goal of our show – and Roberto [Aguirre-Sacasa] talked about it beforehand – is that Archie is not going to stand between a friendship between these two girls who are destined to be best friends."
8

The Pussycats

The show's badass girl band, fronted by the tenacious Josie (Ashleigh Murray), the Pussycats are not just pretty faces. They're a bunch of gorgeous girls, as this fierce photo shows, but there's so much more to them than that, and they're not going to let anything get in their way.

Murray told Empire Online that she's bringing the character into the present day: "My take on Josie is she's kind of like a reincarnation of Josie and the Pussycats from the past, but dealing with the same kind of things that we deal with now in 2016, and how far we've come as women. We don't have space and time to be ditsy; everything that I do and want is very purposeful".

World domination is undoubtedly on the cards if Ashleigh has anything to do with it: "I would absolutely do a spinoff… I want to bring Josie to New York. I want her to have her first big city experience."
7

Pilot episode dinner

You know what they say: the family that eats together, stays together. Okay, we might've just made that up, but tell us it doesn't make you feel all warm and fuzzy inside to see the gang all together, stuffing their faces, after screening the pilot episode. It's crazy how well the cast clicked right from the very start, and this picture - posted by Marisol Nichols, who plays Hermione Lodge - shows just how comfortable everyone is around each other.

While we're on the subject of the Riverdale cast stuffing their faces with food, during season 1 many fans pointed out that Jughead wasn't seen munching nearly enough hamburgers, considering his comic book counterpart was obsessed with the junk food. So, just to satiate fans' appetites, Netflix tweeted this promo video of Cole Sprouse rather sensually eating a hamburger, with some mood setting music in the background. It was weird, a bit creepy, and fans... ate it up.
6

Girlgang

The Riverdale writers have tried hard to develop the characters from the comics, and bring them into the present day, while keeping them true to the source material. Perhaps one of the biggest progressions in the show is the relationship of the girls and women: they're no longer just there to fight over Archie.

This picture shows the season 2 River Vixens. There's a new line up for the cheerleading squad, now featuring Josie McCoy. These are just four of the strong, powerful ladies in the show. Every single one of them has their own agenda, personality, and strength that proves just how well written the characters are in this show.

TV and movies need more strong female characters that stand up for each other, and don't let men get in their way, so well done Roberto Aguirre-Sacasa and co. for writing these amazing characters that women of all ages can relate to.
5

Bros for life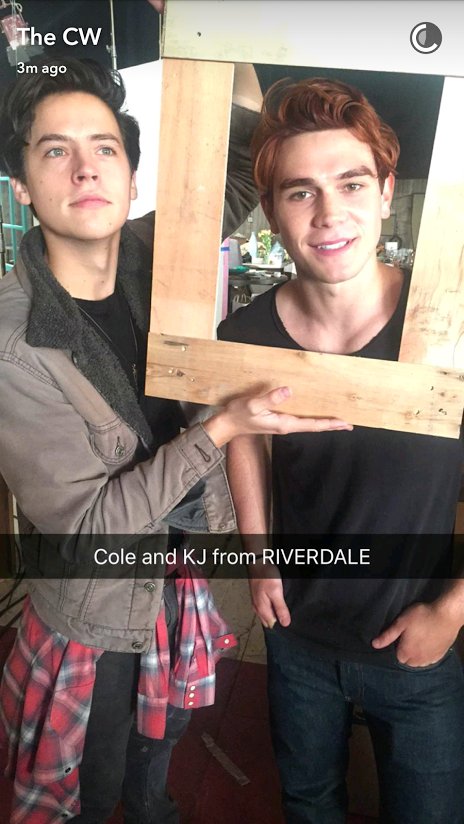 Cole Sprouse said in an interview at Comic-Con 2016 - which was before they'd even begun filming the first season - that he and Apa were "legitimately best buddies." He said they're "two peas in a pod, it's almost uncanny." And speaking of the pairs progression throughout the first season, he hoped "the way that we interact in real life shines through when we start repairing that friendship over the season."
At the same Comic-Con KJ had similar things to say about Sprouse, saying the relationship he was looking forward to exploring the most was the one between Archie and Jughead. When he was asked if he stood on the side of Team Betty or Team Veronica, he replied: "Team Jughead."
The pair of them make an even more adorable platonic couple than the romantic couples in the show, and this photo shows that Apa and Sprouse's bond stayed strong throughout filming the first season.
4

Relationship goals

As well as the awesome platonic bonds on Riverdale, there's been some serious romantic relationships over the first season, even if not all of them have ended well. As this photo shows, Veronica and Archie are an adorable couple, even if fans were forced to wait until the season finale for the pair to make things official.

It was definitely a long time coming, as Apa made a point that Archie always had eyes for Veronica: "That all started in that first episode when she walked into the diner, and as soon as Archie saw her, he was like, 'Woah, s**t'".

But Archie and Veronica aren't the only cute couple. Bughead - Jughead and Betty, obviously - also had their passionate moment in the season 1 finale, and seem to be going strong.
3

The new girl

Just when we thought the female characters in this show couldn't get any cooler - so many different personalities, backgrounds, and ethnicities are represented - Vanessa Morgan is added to the show as Toni, who might just be the show's first female bisexual character.

In a recent interview, executive producer Roberto Aguirre-Sacasa said they would explore Toni's sexuality in season 2. But the character is getting fan attention for another reason: she becomes Jughead's new friend and confident, and considering her famous obsession for hamburgers, this introduction is making fans worry about their precious "Bughead."

Even if the new girl does cause a rift between Jughead and Betty, making her a character fans love to hate for a while, she will undoubtedly be another bold female presence, and adding a bisexual woman of color into the show just makes things so much more relatable and accessible for so many more fans. Again, great writing and character development from the show's creators.

Bonus: Roberto also confirmed that Toni will "be absolutely rockin' her signature pink hair." Exciting!
2

The new guys

There's not just a new girl in town for season 2, there are a couple of new guys too, seen in this photo getting their sweat on with Apa. Mark Consuelos will be joining the cast as Veronica's father, Hiram Lodge, and Charles Melton will be taking the role of Reggie Mantle, following Ross Butler's departure from the series to focus on his other show, 13 Reasons Why.

Judging by the workout pictures, as well as other photos Apa, Consuelos, and Melton have posted, it seems like the new guys have settled into the cast family pretty quickly. Mendes even posted a picture from their weekend pizza party, and boy does that photo make it seem like Charles has comfortably fit in with the rest of the cast already.

Mendes also welcomed her new on screen dad to the show, and was very happy with the casting: "It's perfect casting. I'm so excited to… see that relationship between Veronica and Hiram. He was such a mystery and now his arrival is really going to shake things up".
1

Squad goals

Right from the pilot episode, the cast have been inseparable. They've pizza partied, Coachella-d, and even moved in together. Plenty of other shows have a tight cast, but nothing compares to the family unit of Riverdale.

They love to show their adoration for each other on social media, as this Instagram post from Reinhart shows (they just couldn't wait to all be back in the same room after a short time apart), and they love to talk about in interviews.

Apa gushed to Collider about how close they all are, and how quickly they clicked: "as soon as we all started working together, we all got along. All of us are really, really great friends."

Reinhart added: "When we all got to Vancouver and first started hanging out, it was immediate closeness. We all immediately felt connected to one another. I live with Madelaine [Petsch], who plays Cheryl. You can't fake the closeness that we have."

---

Riverdale returns on Wednesday, October 11 on The CW.