The Zack Snyder cut of Justice League had Aquaman play a very different role to the theatrical release. When the original director left the film due to a personal tragedy, Warner Bros. publicly claimed that Joss Whedon was just finishing what Snyder had started. The truth, of course, was very different; Whedon conducted extensive reshoots that totally altered the vision for the DC team up. The final version of Justice League was a mishmash of different tones and styles, often lacking narrative cohesion - and with a lot of forced humor.
It's generally believed that Snyder had completed an initial cut of the film when he stepped back, and there's been a public - albeit unsuccessful and unlikely - campaign for Warner Bros. to release this. Aquaman star Jason Momoa has been one of several DC Films actors to vocally express his support for this campaign, and with good reason; he credits Snyder as the man who got him this job, considers the director to be a dear friend, and had a lot of his scenes cut from Justice League.
Related: Jason Momoa Won't Let Warner Bros. Distance Aquaman From Zack Snyder
With Aquaman heading into cinemas and Momoa teasing its connection to the Snyder Cut, the question of what exactly Warner Bros. changed of Arthur Curry's story in Justice League looms large. What elements were cut from the final theatrical release? And what was actually reshoots? Here, we'll examine everything that's currently known.
Aquaman's Justice League Introduction Was Made Simpler (And Funnier) By Whedon
Although footage of Aquaman was shown in Batman v Superman: Dawn of Justice, his proper introduction is saved for Justice League. Unfortunately, this is one of the scenes where Whedon's reshoots are particularly visible; Whedon and Snyder have very different cinematographic styles, and as a result it's easy to see which moment was shot by which director (Whedon's are flatter, brighter, and clearly shot on a green screen). That gives Arthur Curry's first scene a strange, choppy quality that just doesn't quite work.
Even without the shooting differences, this exchange has several distinctively Whedon elements to it; the obsession with Bruce Wayne's wealth is a recurring gag, and it's likely Snyder had Batman make a very different appeal rather than offering money for an introduction to the Aquaman. The focus on Mother Boxes as simple MacGuffins was a Whedon extraction too, a way of simplifying and compressing the Justice League plot; the mural on the wall and Bruce's direct pleas about boiling oceans are reshoots. Clearly, the entire first meeting between Batman and Aquaman went very differently in the Justice League Snyder Cut.
Mera Had A Bigger Role In Snyder's Justice League
There's some evidence that Amber Heard's Mera originally had a much larger role in Justice League. A previs animation showed an extended version of the battle between Mera and Steppenwolf, with Mera using her hydrokinetic powers in some pretty creative ways. While this removed segment of the fight wouldn't have made any difference to Justice League's overall narrative, it substantially altered how audiences reacted to Mera during her first big screen appearance. In one particularly interesting moment, Mera attempts to use her power to draw moisture out of Steppenwolf's body, essentially dehydrating him. It's the same tactic she'd go on to use in Aquaman, when she drew moisture out of Arthur's body in order to activate ancient Atlantean technology.
Related: Aquaman Review: DC's Superhero Movie is a Wild & Goofy Ride
Additionally, Heard was on set when Justice League filmed in Iceland, with set photos showing she was in costume. That clearly suggests she filmed at least one additional scene; this may be a scene from the end of the film (which we'll get to) although could be evidence of an even bigger role.
Justice League's Underwater Scene Had Important Mythology Connections Removed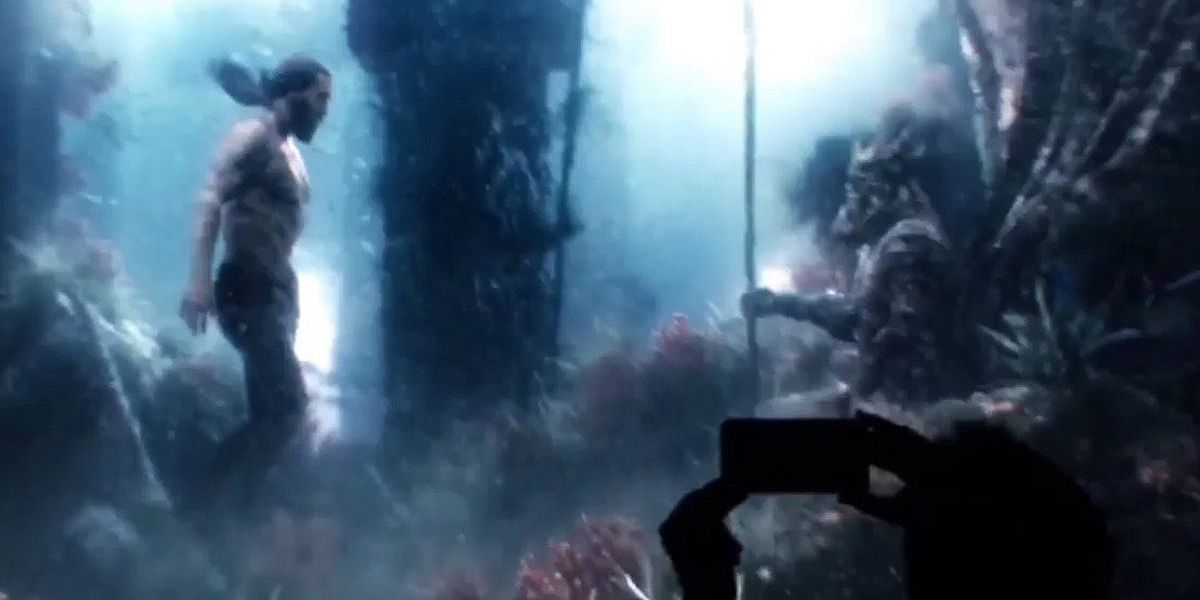 In addition to the stars of Aquaman, Zack Snyder's Justice League seems to have explored the mythology Atlantis in greater detail, with Arthur's journey into the see delving more into his heritage. Snyder released VFX footage showing Aquaman in an extended underwater sequence. Arthur was seen approaching a stone statue, seemingly dressed in the armor he would later wear when fighting alongside the Justice League. It was a clear nod to The Dead King, the entombed body of King Atlan, the first great ruler of Atlantis. No doubt this would have been a powerful scene, with Aquaman claiming his birthright when he donned his ancestor's armor.
Jason Momoa has suggested that this was one scene that featured Willem Dafoe as Vulko, the Atlantean nobleman who trained Aquaman as a warrior. "There's a place where [Aquaman] goes down to, and it got cut out of the movie," he explained. "[Arthur] knows spots where he can go and he can see these statues, the remnants of [Atlantis]. There's Vulko - obviously we'll have way more scenes with Vulko, Willem Dafoe  - in Aquaman. There just wasn't enough time in this movie." The implication is that Vulko has been teaching Aquaman all about his royal ancestry, and even showed him the statues at some time. It even sounds as though Arthur and Vulko meet at the Statue of the Dead King. That said, it's probably a good thing this particular sequence was cut; it would contradict James Wan's portrayal of Arthur Curry in Aquaman, where he was yet to accept that he should be monarch of Atlantis.
Also changed by the Justice League reshoots in this sequence is the aforementioned fight between Mera and Steppenwolf, as well as the addition of the "air bubble" conversation; James Wan suggested around the time of the film's release that this was part of Warner Bros' changes to the film.
Key Release Dates
Aquaman (2018) release date: Dec 21, 2018
Shazam! (2019) release date: Apr 05, 2019
Joker (2019) release date: Oct 04, 2019
Birds of Prey (And the Fantabulous Emancipation of One Harley Quinn) (2020) release date: Feb 07, 2020
Wonder Woman 1984 (2020) release date: Jun 05, 2020
Star Wars: The Rise Of Skywalker Trailer Breakdown - 33 Story Reveals & Secrets