Just what do we know about next year's Avengers 4? Marvel is trying to keep the details under wraps; the Russo brothers in particular have been enjoying dropping as many cryptic hints as possible, even trying to persuade fans that the deaths at the end of Avengers: Infinity War will stick.
In spite of Marvel's secrecy, though, there have been a number of key Avengers 4 leaks. These began during production of the film, with set photos offering strong hints as to the film's plot. Since then, there's been a stampede of potential reveals. It's unclear which "leaks" are actually real, but putting everything together certainly presents a very interesting picture.
Related: Marvel Needs To Stop Pretending Infinity War's Deaths Won't Be Undone
So what do we actually know about Avengers 4, what do the leaked details suggest, and how much of this is actually real? In this post, we're going to collect every single major leak, and explore just how it fits into the little we know for certain. We'll keep this up-to-date over the course of the next year; no doubt there'll be more major leaks before Avengers 4's release in 2019.
This Page: Avengers 4 Art & Set Photos
Last updated: October 19, 2018
Leaked Art from Avengers 4
Let's start with a stunning piece of artwork. In early June 2018, leaked art provided a glimpse of the Avengers 4 team. The art was displayed at CineEurope, confirming it as officially from Marvel. This art clearly shows that the remaining heroes will unite against Thanos, but that there will be some pretty dramatic changes along the way.
As most have expected, the art shows Captain Marvel alongside the Avengers. Mysteriously absent, though, is Wasp - leading some to theorize that Hope will have been killed when Thanos snapped his fingers.
War Machine has a major upgrade.
Steve Rogers and Black Widow clearly aren't on the run anymore, with Black Widow returning to her trademark red hair, while Steve Rogers is wearing a (scaled) Captain America outfit.
As rumored, Hawkeye's costume looks quite dark, supporting the popular theory that he'll suit up as Ronin.
Finally, note that the Hulk is very different. The Hulk's facial structure is more like Mark Ruffalo's than ever before, and he's actually wearing a costume. This was confirmed at CineEurope, where footage from Avengers 4 was shown that apparently revealed the Hulk in armor.
Read More: Avengers 4: The Biggest Reveals From The Leaked Art
Powerful New Weapons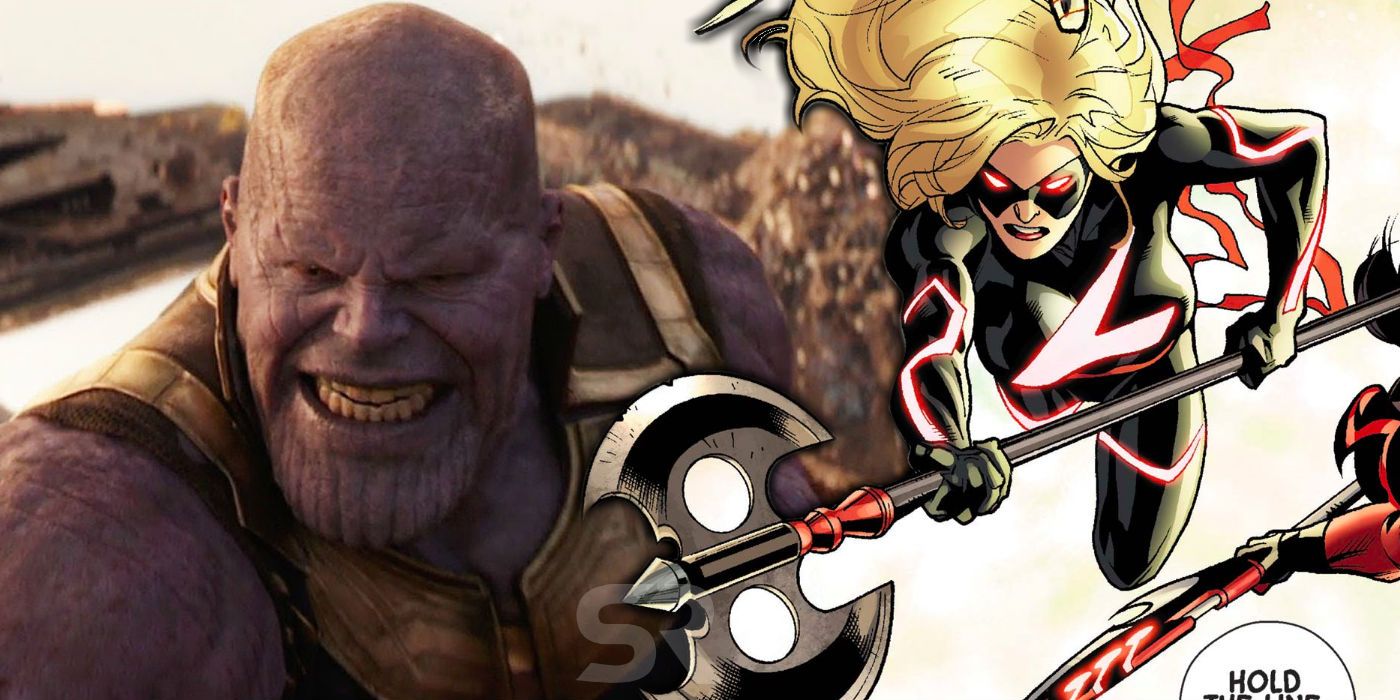 Meanwhile, leaked concept art and set photos have suggested that the Avengers will be getting something of a power-up in order to win their inevitable rematch against Thanos. One shows what seems to be a proton cannon, a weapon used by Iron Man in Capcom's 1995 arcade game, Marvel Super Heroes. The weapon was lying in the background at the Avengers headquarters in Avengers: Infinity War, and at first seemed to be little more than a cool Easter egg. But it featured in a cryptic social media post from Joe and Anthony Russo, and in October the leaked set photo gave a closer look at it. It's as yet unclear how important a weapon the proton cannon will be in Avengers 4.
Equally interesting is a piece of concept art that shows a distinctive ax-like weapon. It's almost identical to a Dwarven ax wielded by Captain Marvel in the Fear Itself event. That story saw Iron Man pick up an arsenal of Asgardian weapons, with each of the Avengers transformed by their own individual tool. This fits rumors that Eitri will be an important figure in Avengers 4; the heroes may well head to him to get some more weapons forged on Nidavellir.
But Thanos may not be unarmed in Avengers 4 himself. The snap took a physical toll on the Mad Titan. Another piece of concept art leaked on Reddit, showing Thanos donning the armor we briefly saw in Avengers: Infinity War and carrying a sword. The image has since been removed, but it suggests Thanos won't go down without a fight.
Return To The Battle of New York
A wide range of set photos has made it clear Avengers 4 will revisit the Battle of New York, which took place in 2012's The Avengers. The first indication came late last year, when one set photo showed Tony Stark wearing the same Black Sabbath shirt he sported for most of The Avengers. More set photos showed Thor and Loki in their 2012 attire (complete with flowing golden locks for Thor). The last batch of set photos showed Cap in his Avengers uniform, standing alongside an older Tony Stark and Ant-Man. These images strongly suggest either the use of B.A.R.F. technology (the virtual-reality tech Stark innovated in Captain America: Civil War) or time travel.
Other set photos and casting calls suggested there would be flashbacks to different times, as well. Evangeline Lilly dropped a set photo showing her hair in a bob; while Hope wore her hair in that style in Ant-Man, she's ditched it by the time of Ant-Man and the Wasp. Chris Evans was snapped filming a scene set in the past, as he walked down a street filled with classic cars. Marvel casting calls included an appeal for actors to play an office scene set in the 1960s.
Key Release Dates
Ant-Man & The Wasp (2018) release date: Jul 06, 2018
Captain Marvel (2019) release date: Mar 08, 2019
The Avengers 4 / Avengers: Endgame (2019) release date: Apr 26, 2019
Spider-Man: Far From Home (2019) release date: Jul 02, 2019
How I Met Your Mother Fell Into The "Ross & Rachel" Trap