Two years following the show's first season, American Gods is finally making its return to Starz this weekend for season 2. The adaptation of Neil Gaiman's epic novel debuted back in 2017, but behind-the-scenes issues have kept it off screens until now.
The first season won plenty of acclaim for its visual flair, handling of the source material, inherent weirdness, and strong performances from the cast, led by Ricky Whittle and Ian McShane. After a change of showrunner and some cast departures, season 2 needs to build upon the dramatic conclusion to season 1. That saw Mr. Wednesday reveal that he is indeed Odin, Ostara cast a drought over America, and the war between the Old Gods and the New Gods edge just a little bit nearer.
Related: What To Expect From American Gods Season 2
Season 1 of American Gods gave us some pretty big reveals - not least Mr. Wednesday's true identity - but it was also just the first part of a much bigger whole, leaving a number of things unanswered and ripe for further exploration. With so much time having passed since it aired, and season 2 around the corner, it's a good time to take a look back on the first season, and all the pressing questions it left behind.
Is Salim Going To Find The Jinn?
Salim's sex scene with the Jinn made for one of season 1's most memorable moments, but it wasn't long before the pair were parted. Since then, we haven't seen too much of Salim, but he is making his way to the House on the Rock to find the Jinn. Are the lovers set to be reunited, and will the Jinn be accepting of Salim, or was it a one-time thing? Jinn gave Salim a fresh start, but will things go worse for him when he turns up again?
Which Side Will Bilquis Choose?
Bilquis was among the most powerful and interesting Gods we met in season 1, and one who featured heavily in the marketing. She was swayed to the side of the New Gods because they promised to make people love her again, specifically through the use of a dating app, which allowed her to access countless new suitors.
By the end of the season, however, her allegiances are very much in doubt as she does things the old fashioned way: seducing a person on a coach and inviting them to the bathroom, so she can consume them via her vagina. She'd be a great asset to either side, so is she going to stick with the New Gods, or can Mr. Wednesday win her over?
Related: Ricky Whittle & Pablo Schreiber Interview: American Gods Season 2
What Is Going To Happen At The House On The Rock?
The season ended with a number of Old Gods making their way to the House on the Rock, a roadside tourist attraction that contains the largest carousel in the world. Mr. Wednesday is effectively making this a place for his war council, where he's going to pitch his plans to all of the Gods and try to convince them to join his side.
The carousel has featured prominently in the marketing for season 2, suggesting that what happens there is going to have a major impact on the rest of the story. With so many powerful beings in one place, there's a lot that could go awry if Wednesday can't keep things in check, alongside the general air of mystery and magic surrounding the location.
How Will The Drought Affect America?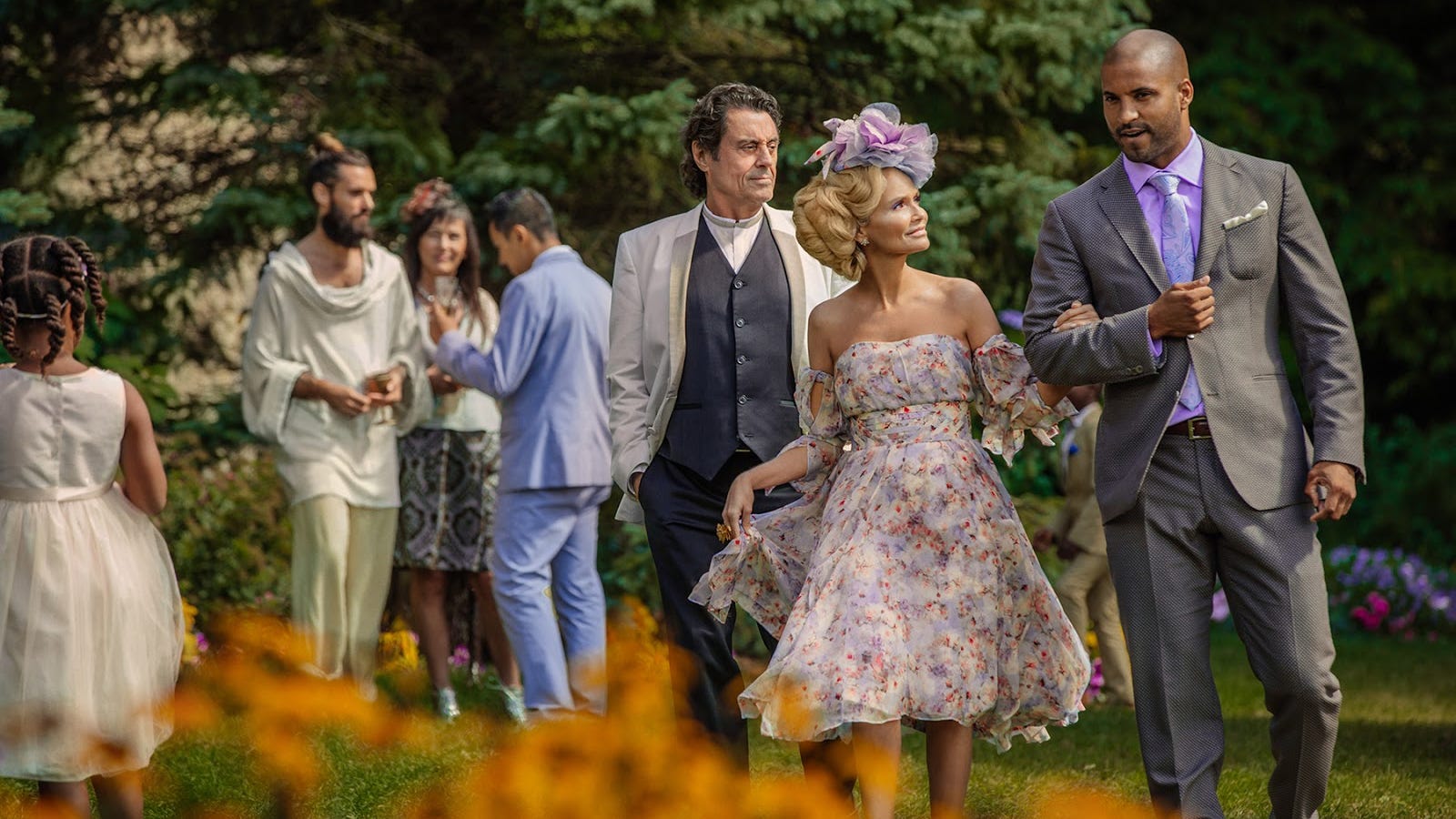 Season 1 ended with a bang: Mr. Wednesday revealed himself to be the All-Father, Odin, and what's more, he won Ostara to his cause. As he declared, the Old Gods have reclaimed the Spring. That was quickly followed by Ostara showing off her powers, causing a drought to spread all across America.
It's a move that angered the New Gods, more because they'd lost Ostara than the drought itself. But that should actually have some huge implications across America. Not only will it cause suffering, but might it aid the Old Gods' cause? A drought is a Biblical-level event, and the kind that might make a lot of people turn to faith and start praying to one God or another, boosting their power ahead of the coming war.
Related: American Gods Season 2 Trailer Re-Introduces You To The Old Gods
Will Laura Be Resurrected?
Laura Moon was one of the biggest successes of American Gods' first season. Only appearing sporadically in the book, she becomes a crucial player in the show's narrative as she goes on a journey with Mad Sweeney. A journey that, towards the end, gives her a ray of hope by suggesting she might actually be able to be resurrected.
Given so much of what happens is predicated around her death, that would be a big game-changer and is likely to form the crux of her arc over the series. Will she be resurrected in season 2? It's perhaps too early for it to happen, but we can expect the series to delve further into the mysteries of her existence and explain just how she might one day be able to live again.
The Biggest Misconceptions About Lost's Ending